Photographers
Thanks for visiting our page for professional photographers.
We are happy to welcome you and your clients to our farm for your photo sessions! We love seeing families make memories at the farm. We are honored you chose to view this page and look forward to working with you as you capture those special moments for families.
All of the fields are open for photo session prior to Saturday, November 18th. After the 18th, there is one field available for photographer use.
2023 Season
Events:
Tree tagging begins October 1st (dawn-dusk).
Join us for our 5th Annual Fall Event:
Sunday, October 1st (9a-3p)
Tag your '23 Christmas tree, capture memories at our photo ops, relax by the campfire, wagon rides & more!
Friday Nights on the Farm: 5p-7p
Get a $5 gift shop voucher with each pre-cut tree purchase, roast marshmallows over the campfire, take a peek inside a room at The North Pole and make family memories!
2023 Sales Hours:
November 18th – December 23rd 
Saturdays: 8a-5p
Sundays – Thursdays: 12p-5p
Fridays: 12p-7p
Thanksgiving Day | Closed
Black Friday | 8a-7p
Below are safety reminders and guidelines for reserving time slots for photo sessions.
Tips & Reminders:
Hunt's Christmas Trees, LLC is a working farm. Our fields change from year to year, watch for uneven ground, stumps, holes, etc. Feel free to visit the farm prior to your session to ensure it will suit for your photo sessions.
It is first come first serve for availability and site location.
Please be courteous to other photographers on the farm.
You may set up your own props and/or feel free to use the props on the farm. Please no tinsel.
Please provide your clients with your contact information so they can find you. Farm staff will not be responsible for directing your clients to your photoshoot location.
A portable bathroom is next to the tagging booth in the parking area.
If you post on social media, we request that you please mention our farm and/or tag us. We are active on our social media pages and enjoy promoting and sharing your work.
Client vehicles are not allowed in the Christmas tree fields, they must park in the parking lot.

Be sure your clients understand that it may take them 5-10 minutes to walk to your location from the parking area.
We recommend that photographers and clients wear sensible shoes for walking; sandals and high heels are not suitable for walking across uneven ground or high grass. Clients can, of course, bring nice shoes to change into.
Photographer's Agreement Guidelines and policies:
All photography sessions must have a prior appointment.
We request that you have a certificate of liability insurance, listing Hunt's Christmas Trees, LLC as also insured. Please email a copy to jeanette@huntschristmastrees.com ahead of time as it is needed prior to your scheduled session.
Only photographers are permitted to drive to the shoot location prior to November 18th. (At certain times it may require a 4-wheel drive vehicle.) You may shuttle your clients to the shoot location. (From November 18th until Christmas no vehicles are allowed beyond the parking lot.)
All clients of photographers must park in the parking lot and walk to the photo shoot location.
Trash and clean up: Photographers and their clients are responsible for cleanup and proper disposal of all garbage, trash, food wrappers, etc.
Refunds will only be made for cancellations due to inclement weather.
All props must be removed upon departure.
For other scheduling options, please email jeanette@huntschristmastrees.com.
Fees
| | Half-Day | Full-Day |
| --- | --- | --- |
| Fee: | $75 | $150 |
| Amount of Time: | up to 4 hours | 5-8 hours |
| Hours: | 8am - 12pm, or 1pm - 5pm | 8am - 5pm |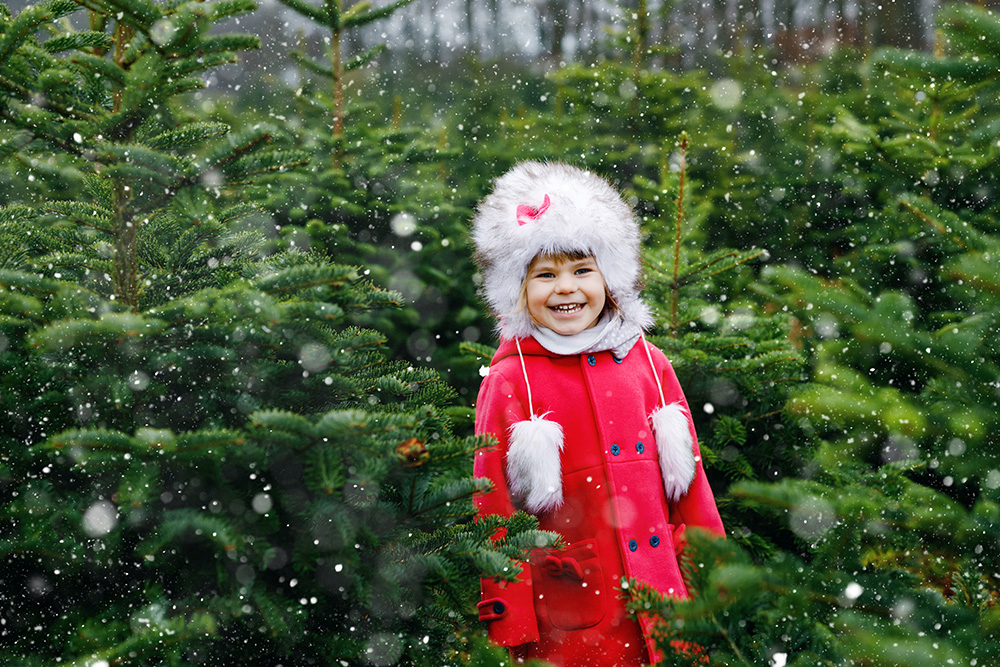 Book A Half-Day or a Full-Day